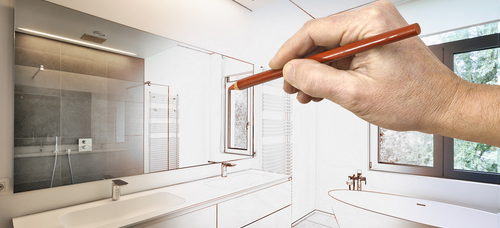 Who says the bathroom can't be a luxurious part of your home? Sometimes all it takes is comprehensive bathroom remodeling in Santa Rosa, CA to unlock its true beauty and appeal!
At ABA Custom Homes Inc., we believe any bathroom can look its best with the right makeover. From tubs and showers to cabinets and countertops, we work hard to raise the bar for quality in your bathroom. Let us introduce you to a new standard of excellence and a bathroom you'll come to appreciate for years ahead.
Bathroom Modernization
Bringing your bathroom into the modern decade is a great way to increase the value of your home and improve your daily experience in this space. Count on our bathroom remodelers in Santa Rosa, CA to completely transform your bathroom, whether it's long outdated or just needs a better design theme. We address every single part of the bathroom to make it a value-add room of the home:
Cabinetry
Fixtures and hardware
Flooring and countertops
Glass and mirrors
High-Caliber Materials
In addition to delivering a grand bathroom design to your home, we take care to accentuate it with only the best materials. From authentic stone countertops, to high-quality tile flooring, to frameless glass shower doors and much more, we aim to infuse your space with sophistication. We can work within your budget and make recommendations that maximize the appeal of your bathroom remodel through the alluring materials that will come to define it.
Improve Your Bathroom
Has the time come to reinvest in the quality and appeal of your bathroom? Let ABA Custom Homes Inc. take the reins on your bathroom remodel, introducing luxury and quality into your home. We promise modern appeal through high-caliber materials, with results that speak for themselves! Reach us today at 707-575-3228 to get started planning your renovations.